Fujitsu air conditioning installers in Essex and London
delta T Services are well known approved engineers in London and Essex, and can offer the full Fujitsu range.
Fujitsu Wall-mounted systems
Wall-mounted systems are the perfect solution for an ideal room environment. Their timeless elegant design and subtle, neutral colour enable the systems to be integrated in any individual interior style. Furthermore, the units are silent as a whisper despite their high output and performance. Speed-regulated inverter control can achieve up to 40% savings in energy consumption,Making your environment not only comfortable but also economical to run.. All models can be conveniently operated by infrared remote control. The louvers can be set gradually or in an auto-swing mode.

Washable filters effectively restrain the formation of germs, odors and bacteria. A dry-blowing function and ozone disinfection also guarantee a significant reduction in concentrated pollutant levels in the air you breathe. Fujitsu models with plasma filter, for example, nip bad odors in the bud. Additional pollen filters can also be retrofitted at any time. Automatic restart after power loss guarantees continuously high operating reliability.
Here is a list of the available models in the extensive range:
Compact Wall Range
ASYG07LEC, ASYG09LEC, ASYG12LEC, ASYG14LEC
Standard Wall Range
ASYG18LFC, ASYG24LFC, ASYG30LFC
Designer Wall Range
ASYG07LUC, ASYG09LUC, ASYG12LUC, ASYG14LUC,ASYG09LTC,ASYG12LTC
Fujitsu Ceiling Wall Range
The unique design of ceiling-wall devices combines the advantages of ceiling and wall models in a single system. The compact device can be discreetly mounted in a corner between the ceiling and wall and providing optimum air distribution accompanied by outstanding cooling output. The louvers comprise self-closing and remote-controlled slats with auto-swing function, ensuring consistent distribution of air. The innovative axial fan increases the specific airflow and thus the cooled or heated area by up to 150% when compared to standard models.

The serial titanium apatite filter eliminates cigarette smoke and unpleasant odors. An integrated UV bacteria-eliminating feature simultaneously destroys dangerous fungal spores and bacteria.

The innovative construction thus satisfies high demands on design and function. Automatic restart after power loss guarantees absolute operating reliability.
Here is a list of the available models in the extensive range:
AWYZ14LBC, AWYZ18LBC, AWYZ24LBC
Fujitsu Floor Mounted Systems
The timeless elegant design of the floor devices and their subtle neutral colour permit integration of the air conditioner in practically any individual interior style.

The floor devices have been designed for applications against a wall, recessed in walls or free-standing in rooms and are particularly convincing thanks to their high efficiency, especially in air-to-air heat pump mode. The design is especially flexible for conservatories with dwarf walls of 600mm in height where the Floor mounted unit fits neatly under the window cill to proved effortless cooling and heating throughout the year.
Here is a list of the available models in the extensive range:
AGYG09LVC, AGYG12LVC, AGYG14LVC
Fujitsu Floor Ceiling Range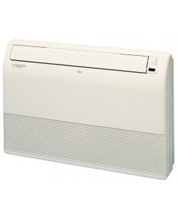 Cassette models can simply be set up on the floor or - without requiring any conversion - can also be used as ceiling models. Their special design means that these units can also be integrated in inclined ceilings. The airflow can be adjusted exactly by remote control, whereby the louvers can also be adjusted variably in vertical direction. The auto-swing function ensures optimum air distribution in the room. The devices can also be used as inverter-regulated air-to-air heat humps for economical heating operations while automatic restart after power loss guarantees absolute operating reliability.
Here is a list of the available models in the extensive range:
ABYG18LVT, ABYG24LVT,
Fujitsu Ceiling Range
Thanks to very good output values despite low space requirements, Fujitsu ceiling systems are eminently suitable for use in server facilities and larger rooms with high cooling/heating requirements. As the systems have been designed for installation under the ceiling, space required for server and hardware equipment is not reduced. Optimum air distribution is assured by louvers which can be set manually and gradually by remote control or in fully-automatic step less auto-swing mode,the automatic restart function which automatically puts the air conditioner back into operation after an unforeseen power loss thus guarantees high operating reliability. The ABY 30 to ABY 45 range housings even permit partly-recessed installation enabling the air conditioner to be mounted even more discreetly.

Even with all of these advantages, the system is still very economical in terms of energy requirements. Savings of up to 40% over standard non inverter systems.
Fujitsu Cassette Range
Fujitsu ceiling cassettes offer top-quality . Cassette systems are eminently suitable for easy installation in suspended ceilings, especially with Euro grids and are good as invisible. The units are sunk into the suspended ceiling grid thereby permitting climate control without a "visible" unit. The louvers comprise self-closing and remote-controlled slats with auto-swing function ensuring consistent air distribution within the room. Air can be expended in two, three or four directions. Even fresh air as well as a connection for ancillary rooms can be installed.

The new AUYF inverter cassettes in groove design are even equipped with a special feature for particularly low suspended ceilings: simply by turning the shutter, the requisite installation depth can be reduced by another 35 mm to 200 mm. This therefore dispenses with an additional frame.

The Euro cassette models can be installed in any 600 mm grid ceiling and are also available in new perforated design as an optional extra.
Here is a list of the available models in the extensive Fujitsu range:
AUYG12LVL, AUYG14LVL, AUYG18LVL, AUYF24LBL compact cassette systems
AUYA30LBL, AUYA36LBL, AUYA45LCL, AOYA45LC, AUYA54LCL, AOYA54LC standard cassette range.
Fujitsu Ducted Range
Thanks to their extremely low installation height, Fujitsu suspended ceiling models fit inside practically any crawl space. Making them the perfect solution when climate control should be neither seen nor heard, simply felt.

Optimum air distribution is ensured by specially-developed duct systems and air outlets coordinated to the low installation height. These range of models even permit installation behind a cabinet or inside a wall. For larger rooms the range offers models with additional external static compression for longer ducts.

In addition to all of these advantages, speed-regulated I-PAM inverters and fan motors also enable energy savings of up to 40% when compared with standard non inverter units, even in heating mode.
Here is a list of the available models in the extensive Fujitsu range:
ARYG12LLTB,ARYG14LLTB,ARYG18LLTB,ARYF12LAL,ARYF14LAL,
ARYF18LBL,ARYF24LBT,ARYA30LBT,ARYA36LBT,ARYA45LCT,AOYA45LC,
ARYA36LCT,ARYA45LCT,AOYD45LA,ARYC45LCT,AOYA45LC,ARYC54LCT,
AOYA54LC
Fujitsu Heat Recovery Ventilation Range
The new and innovative ventilation units from Fujitsu combine supreme comfort with great energy-savings potential of up to 20% thanks to an integrated heat exchanger that recovers both sensible heat (temperature) and latent heat (moisture) from the exhaust air when operating in ventilation mode.

Another special feature of these units is that they can also be operated without the heat recovery functionality which give the system free cooling in the cooler seasons. In this way, rooms are cooled using just the ambient outside air, without the assistance of the air conditioner.

In these units, the counter flow heat exchanger reduces the sound level and weight, making the unit much lighter and more compact in the process. Servicing work is conducted via a single inspection opening, which means the units are extremely user-friendly.
Here is a list of the available models in the extensive Fujitsu range:
UTZ-BX025A, UTZ-BX035A, UTZ-BX050A, UTZ-BX080A, UTZ-BX100A
Fujitsu Multi Split Range
In the form of the intelligent multi-split system with inverter technology, Fujitsu offer you the ideal climate control solution for up to eight rooms in private or commercial applications. Thanks to a wide variety of indoor units, the multi-split range offers a suitable combination of devices for any requirement. For example, a floor device in the living-room can be easily combined with a ceiling-wall device in the bedroom and a wall device in the study. All of the devices are connected to the same outdoor unit.

Fujitsu multi-split systems are equipped with modern direct-current dual-split compressors ensuring particularly efficient and energy-saving operation - both in terms of cooling and heating.
Fujitsu Big Multi Range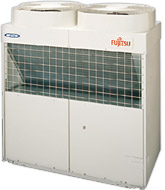 The Big Multi-System has been specially designed for extremely large rooms such as open-plan offices, showrooms, halls or shops, for example. The extremely powerful outdoor unit operates two, three or four indoor devices ensuring constant and consistent air-conditioning even in larger rooms or halls with a high air volume.

These larger units reduce the need for high volumes of outdoor condensers. More information on these systems can be viewed on the PDF document.
Fujitsu VRF Range
VRF systems are increasingly used in air-conditioning of larger and more demanding building complexes such as hotels, shopping centres or office complexes, for example. The wide range of products available for indoor and outdoor devices, their great energy efficiency and operating reliability - as well as the aspect of convenient air conditioning even in heating mode - are just some good reasons for opting for Fujitsu VRF systems.
delta T Services can offer the full range of Fujitsu systems,and are high quality engineers in London and Essex.
Call us on 0800 587 7665